JOB SEARCH TOOLKIT
BUILD AN EFFECTIVE RESUME
Learn about the role of a resume – it's different than you may think!
Highlights from our Resume Guide show you how to make your resume shine.
Common Resume Styles
Chronological Resume
This style focuses on where you have worked and how long you worked there.  It lists your work experience in reverse chronological order, with your most recent position listed first.  This style works best for individuals who have consistent work histories with no gaps.  It also works well for those who have had increasing responsibility and who are seeking to advance in the same field.
Easiest style to write and interpret
Clearly shows a career progression
Emphasizes the employers you have worked for
Is perceived to be more credible and fact-based
Functional Resume
This style focuses on the types of work you have performed rather than where and how long you performed them. It groups your work experience into 3-8 major functional areas, describing responsibilities and achievements within each area.  Functional areas can be competencies (for example, leadership, change management, customer service, administrative support), functions or fields (for example, human resources, accounting, social services, budgets, contracts), industries (for example, local government, banking, non-profit, retail), or other groupings that make sense based on your experience.
Emphasizes accomplishments across a varied or extensive career
Easy way to relate your work experience to the job requirements
De-emphasizes specific job titles and employers
Works well for people who have changed jobs frequently or may have gaps in their work history
Combination Resume
This style includes elements of both the chronological and functional resume styles.  It outlines your responsibilities and achievements within major functional areas first, and then describes your work history in chronological order.  This style works best for individuals who have consistent work histories (i.e., no employment gaps) and varied and/or extensive experience (i.e., at least 10 years).
Most effective if you have standout accomplishments
Easily shows a career progression
Helps relate your work experience to job qualifications
While employment gaps may be apparent, can emphasize accomplishments over a long career
ITEMS TO CONSIDER FOR YOUR RESUME
Work Experience
Military Service
Community and Volunteer Activities
Certifications & Licenses
Qualifications Summary
Educational Details
Completed Training
Relevant Skills
Languages
Technical Summary
Name and Contact Information
Career Objective
Presentations and Publications
Professional Affiliations
Awards and Honors
. . . and what to leave off
Hobbies & Interests
While it can personalize your resume, this information isn't relevant to demonstrating that you are qualified for the job.
Personal Details
Information such as age, ethnicity, religion, etc. should not be included. Stick with what is relevant to the job you are applying for.
Photograph
Application materials for the County should not include a photo unless it is part of a license that is required for the position.
References
A list of 3-5 professional associates who can serve as references should be listed on a document SEPARATE from your resume.
Feature Important Info
Make sure your most relevant qualifications are prominently displayed and easy to find.
Leave Some White Space
Resist the urge to fill every empty space with information. White space can help your resume look professional and uncluttered.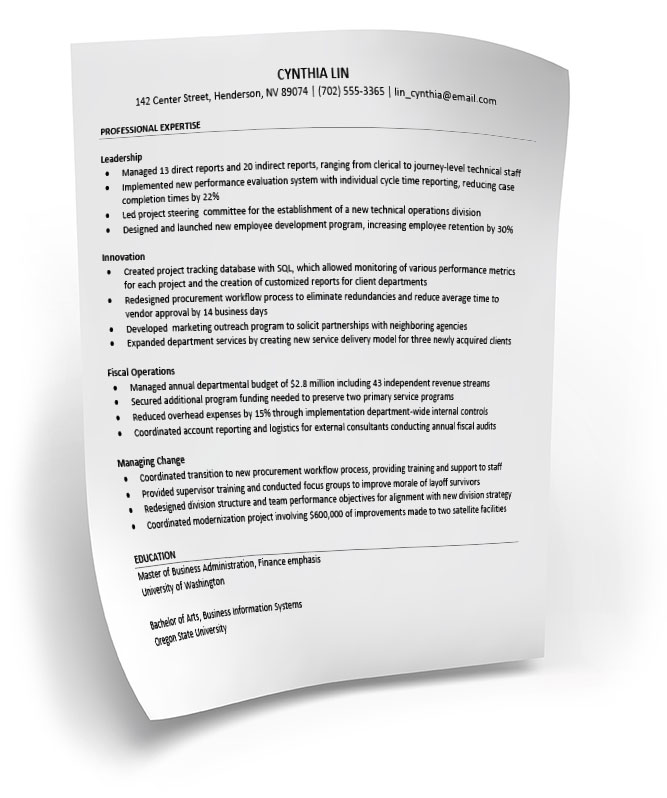 Call Out Section Headings
Section headings should be visually distinguished from the other parts of your resume. Try bold type or horizontal lines.
Use Proper Line Spacing
Bulleted statements and paragraphs should be single-spaced. Include extra space between sections.