JOB SEARCH TOOLKIT
BUILD AN EFFECTIVE RESUME

Learn about the role of a resume – it's different than you may think!
Highlights from our Resume Guide show you how to make your resume shine.
Work experience by year
Chronological
Focus on type of work
Functional
Elements of both
Combination
Chronological Resume
This style focuses on where you have worked and how long you worked there. It lists your work experience in reverse chronological order, with your most recent position listed first. This style works best for individuals who have consistent work histories with no gaps. It also works well for those who have had increasing responsibility and who are seeking to advance in the same field.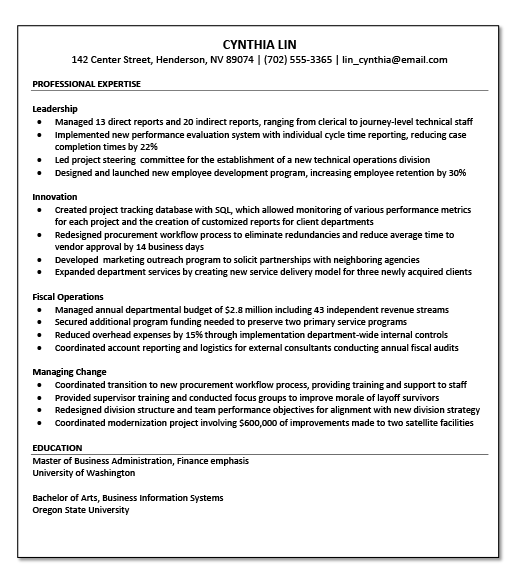 Functional Resume
This style focuses on the types of work you have performed rather than where and how long you performed them. It groups your work experience into 3-8 major functional areas, describing responsibilities and achievements within each area.  Functional areas can be competencies (for example, leadership, change management, customer service, administrative support), functions or fields (for example, human resources, accounting, social services, budgets, contracts), industries (for example, local government, banking, non-profit, retail), or other groupings that make sense based on your experience.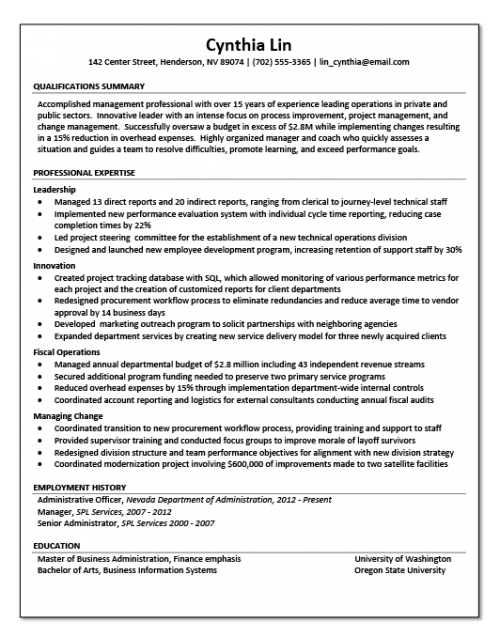 Combination Resume
This style includes elements of both the chronological and functional resume styles. It outlines your responsibilities and achievements within major functional areas first, and then describes your work history in chronological order. This style works best for individuals who have consistent work histories (i.e., no employment gaps) and varied and/or extensive experience (i.e., at least 10 years).
ITEMS TO

CONSIDER

FOR YOUR RESUME



Work Experience
Military Service
Community and Volunteer Activities
Certifications & Licenses
Qualifications Summary
Educational Details
Completed Training
Relevant Skills
Languages
Technical Summary
Name and Contact Information
Career Objective
Presentations and Publications
Professional Affiliations
Awards and Honors
... AND WHAT TO

LEAVE OFF